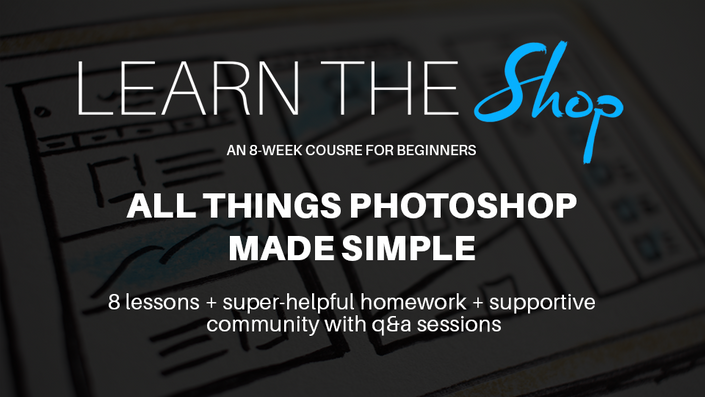 Learn The Shop
a crazy-helpful, 8-section Photoshop course for beginners
Learn Photoshop with no prior experience.
Learn Photoshop in 8 video lessons specifically created for non-designers. It's packed with the details you need to know to get started quickly.
#LEARNTHESHOP
How many times have you found yourself needing to edit something, create something, or adjust something only to find out that you can do exactly what you need to do in Photoshop? (Which wouldn't be a bad thing if you just knew how to use it.) And although there are some great alternative programs out there, none of them can quite measure up with what you can accomplish in Adobe Photoshop.
This is your opportunity to filter, mask, resize, adjust, tint, create, colorize anything your heart desires because by the end of our time together you will be a Photoshop wonder (OK, that is stretching it a bit (or a lot). Remember, this course is for beginners, so by the end of it you will be way more awesome than when you started.

So, ready to create your ebook covers, social media images, web banners, email headers, product mockups, and just about anything else you need? Let's get started.
Workbook meet the people. People meet the workbook.
Each section has a fillable workbook filled with information, resources, and key lessons. They are set up to help you get the details out of the video you need. And each lesson video includes the time codes for easy access to the right information.

here's what we'll cover:
SECTION ONE: THE NUTS & BOLTS
Learn the basics: starting a new document, setting up your workspace, and adjusting your settings. Also get to know your toolbar and learn how to save your creation in different formats as well as how to save specifically for print and web.
SECTION TWO: UNDERSTANDING LAYERS
As one of the features that make Photoshop so great, it is essential that you understand how layers work. So in this section, you will get an understanding of their function and significance and learn about Layer Styles as well as layer masks and smart objects.
SECTION THREE: WORKING WITH TEXT
There is so much you can do in Photoshop with text, so we will go over all of the basics such as sizing, fonts, and formatting, but I will show you some hidden gems like paragraph and character styles.
SECTION FOUR: WORKING WITH SHAPES
Another awesome feature of Photoshop: You can add a lot of cool elements to your designs with shapes and the designers of the world love to make all kinds. You will learn how to manipulate them to get the effect you want.
SECTION FIVE: WORKING WITH COLOR
Color applies to everything! So as you are formatting your cool text and working with your cool shapes, you will need to change their color, add a gradient, mess with the saturation, etc. If you don't know what I mean now, you will.
SECTION SIX: WORKING WITH BRUSHES
Brushes can help you with almost any aspect of Photoshop design, so we will get into finding brushes, adjusting them, installing them, and using them.
SECTION SEVEN: PHOTO EDITING
Awww! The ability erase that pimple off of your forehead in the best and only selfie you ever took! We will explore the different functions in Photoshop that allow you to make your photos pop. This includes color adjustments, filters, cropping, and all kinds of cool stuff.
SECTION EIGHT: MAKING SELECTIONS IN PHOTOSHOP + ESSENTIAL QUESTIONS
Finally, you know photo you saw once where everything was black and white except the red sweater? Or you've always wondered how people make those nice banners with their image on a different background. Wonder no more! I will show a few different ways to select certain elements in Photoshop to get the most out its capabilities.
Your Instructor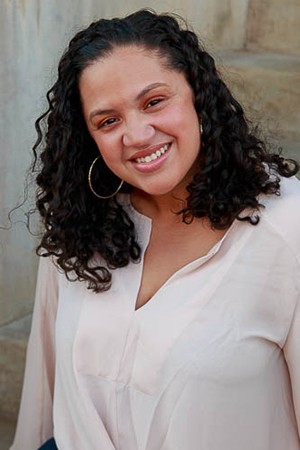 Hi! I'm Brittany Mays. On a daily basis, you will find me designing brands and courses for amazing people which I love to do and balancing my business(es) with my family (they seem to like me, so I try to stay around.)
I have seen first hand how effective the right mockups, graphics, and creative resources can be for social media, sales pages, and conversions in emails and that's why I want to show you how to create them and make them great.
Graphic design has been my thing for almost 8 years, and I have been teaching people for even longer. You can always find me at BMays.com.
I also co-create an awesome "blog-in-print" for creatives named The Independent. If you want even more great information and resources for your business, check there.
Course Curriculum
Introduction
Available in days
days after you enroll
Section One: The Nuts and Bolts
Available in days
days after you enroll
Section Two: Understanding Layers
Available in days
days after you enroll
Frequently Asked Questions
When does the course start and finish?
The live version of the course that includes an awesome community and personal attention starts on May 1, 2016 and end June 19, 2016. After the live version, this course will be self-paced.
How long do I have access to the course?
How does lifetime access sound? After enrolling, you have unlimited access to this course for as long as you like - across any and all devices you own.